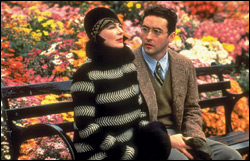 Dianne Wiest and John Cusack in the film version of Bullets Over Broadway
Producers Julian Schlossberg and Letty Aronson are proud to announce that the world premiere production of BULLETS OVER BROADWAY, a new musical adaptation of Woody Allen's iconic 1994 crime-comedy film will arrive home on Broadway in 2013 featuring a book by Woody Allen.
The Broadway musical production of BULLETS OVER BROADWAY will feature existing music of the period. Creative team, dates, theater and casting will be announced shortly.
BULLETS OVER BROADWAY tells the story of an aspiring young playwright newly arrived on Broadway in 1920's New York who is forced to cast a mobster's talentless girlfriend in his latest drama in order to get it produced.
The critically acclaimed hit film was nominated for seven Academy Awards®.